At Thinking Therapists Early Childhood Learning Center we are committed to helping your child reach their full academic potential and develop a life long love of learning.
The Thinking Therapists Curriculum is based on NYS Learning Standards and age appropriate developmental skills. All of our activities target the specific developmental skills that your child needs to succeed in school. Thinking Therapists helps your child to build the foundation necessary for future academic success. The Thinking Therapists curriculum caters to your child's specific academic and developmental needs. We incorporate their unique interests, individual learning style preference and academic strengths and weaknesses into each lesson.
All of our Learning Specialists are NYS certified teachers with extensive training and experience in early childhood education.
Our small group learning environment and qualified staff will enhance your child's academic and developmental growth while stimulating their curiosity and fostering a love of learning.
Thinking Therapists provides your child with the nurturing and academic support they need to become life long proactive learners!! Let us help your child reach their academic and developmental goals today!! Call for a free consultation (347)470-9519.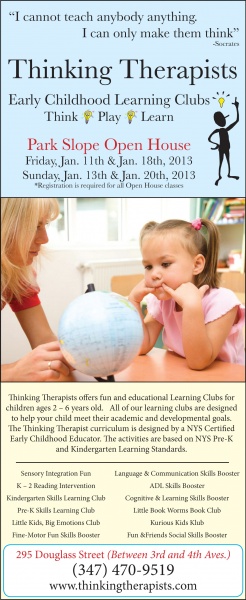 Read More About Thinking Therapists
Early Childhood Education and School Preparedness Center Opens in Brooklyn
Think, Play, and Learn, an early childhood education center in Park Slope, aims to help struggling children reach their full academic potential and provides the foundation necessary to be successful students. The pre-K and kindergarten prep program ensures kids are prepared for their first day of school with all the necessary support and skills.