Related: children, kids, Brooklyn Children Museum, ,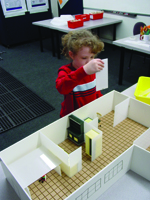 Kids will learn what it's like to be an architect, a construction worker, a designer, and an engineer all in one day. The Brooklyn Children Museum is debuting a new exhibit, Building Brainstorm, with its own design studio where kids can explore planning a dream house, building a skyscraper model, constructing a structure to crawl through, and more. The exhibit features a Shape Search Challenge in which kids find geometric shapes in complex buildings and try to replicate them using wooden blocks. They can also create the ideal floor plan in a model home by arranging the rooms and miniature furniture. $7.50. January 31-May 10; opening weekend January 31-February 1. 10am-5pm Saturdays and Sundays; 12pm-5pm Wednesdays-Fridays. Brooklyn Children's Museum, 145 Brooklyn Avenue. 718-735-4400. www.brooklynkids.org.
---
Will your child be our next cover model?
Enter the 2013 Cover Contest!
---
More Education Articles
How to Prevent a Homework Meltdown
Literacy Resources in the New York Metro Area
Literacy Resources in Nassau County, Long Island
Literacy Resources in Suffolk County, Long Island
Literacy Resources in Queens

Be a good fellow parent and share this with a friend who would be interested
Local Education Sponsors
See Our Education Directory